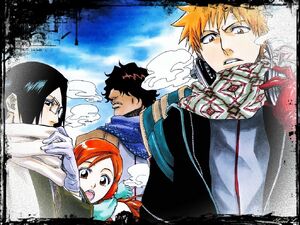 Welcome to Bleach Fan Battle Wiki
Welcome to Bleach Fan Battle Wiki! This is a fan world that has nothing to do with the series or anything just our own world. Join this wiki by creating yourself as a character and have fun!
How to Get Started
Go here to get started on your journey in the Bleach Fan World.
Help
What This Wiki Owes Credit to
Beyblade Fanon Wiki for the Role-Play Wiki Idea
We thank Bleach Wiki for providing us with information when needed
Latest Wiki Activity
Edit
Ad blocker interference detected!
Wikia is a free-to-use site that makes money from advertising. We have a modified experience for viewers using ad blockers

Wikia is not accessible if you've made further modifications. Remove the custom ad blocker rule(s) and the page will load as expected.