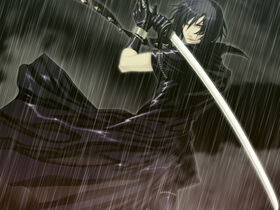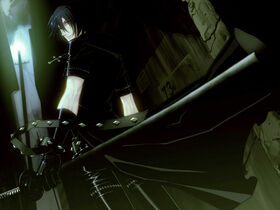 Appearance
Edit
Black wavy hair with a short sleeve black leather robe that has desgins on the sleeve and a high coller. Black gloves with 2 metal rist bands on each glove. One thick wrist band on each hand and one skinny wrist band on each hand. On his right hand he has a metal studded belt hanging off. He has black leather pants that has a desgin on the thaigh of his pants and is the same design as the design on the sleeve.
Personality
Edit
You add that info.
Powers and Abilties
Edit
You add that info
Zanpakuto
Edit
Sora(Sky): It is a black hilt with a black round hilt guard. The blade is white and when in the sky it glows white as seen in the picture he is in the sky and the Zanpakuto is glowing white.
Ad blocker interference detected!
Wikia is a free-to-use site that makes money from advertising. We have a modified experience for viewers using ad blockers

Wikia is not accessible if you've made further modifications. Remove the custom ad blocker rule(s) and the page will load as expected.